What's great about the rickshaw?
The comfortable ride on the rickshaw, with your eye level slightly higher than usual, will let you enjoy different views of the surrounding scenery. While you are traveling, you can enjoy the explanations given by our staff and the interesting conversations with them. In some courses, you can visit famous sights and take photos.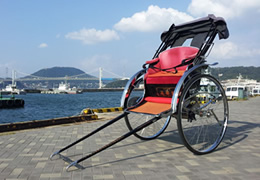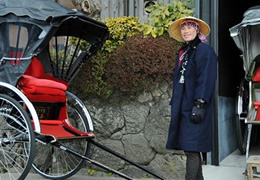 Foreign languages?
We have some English speaking staff at each location.
We recommend you contact us as early as possible, as a lack of English speaking staff may occur during busy seasons.
Please ask us about other languages.

Language Support Fee
For a guide who provides the tour in a language other than Japanese a 1,000JPY language support fee will be charged.
Capacity?
Each rickshaw accommodates up to 2 passengers (Elementary school children and above).
A full fare passenger may acafety conditions allow. For more detailed examples, please refer to the column above.
Courses?
1 block tours(12 minutes) is available. Chartered tours going into depth, are available from 30 minutes,1 hour, and even longer hours.
The luxurious 3 hour "Daimyo" course is also an option. For more details please see the course introduction page for each location.
For standard tours and short tours, you can find the popular courses listed on each location's page.
Only round trips? (options aside from set courses)
The final destination can be arranged to your choice. ( No extra charge for one way use.)
The locations for visiting and arrival can be determined by prior consultation, so please feel free to talk to our staff in the begging.
Photographer?
Our staff will be happy to be your photographer and take your photos in scenic backgrounds using your camera.
Business hours?
Business hours are from 9:30 till sunset. During high seasons* and illumination periods of the temples, shrines and scenic sites, the business hours will be extended. *e.g. the cherry blossom season, the autumn foliage season
Regular holidays?
We do not have scheduled holidays. We operate every single day, all year round, with the exception of the Otaru office which may be closed some days during October and November. (For details please see the Otaru office's page.)
When safety is at risk due to weather conditions or other factors, we may suspend operation or shorten business hours.
Rainy and snowy days?
The canvas roof and waterproof cover will protect you from rain and snow.
(Forgive us if a playful wind gets you a little wet.)
Reservations?
We have a reservation system, and on-site arrangement is also possible at rickshaw stands. Please talk to the on-site staff.
In high seasons a prior reservation is recommended.
Even with a reservation, the starting time may be delayed due to heavy traffic or other unavoidable factors during high seasons.
Rickshaw stations?
We do not have station buildings, but there are several rickshaw stands in each service area. Please refer to each branch's page which has a map of the office and the rickshaw stands in the area.
Pick-up service?
We can come and pick you up at any location if in the operation permitted area.
Please keep in mind that in high seasons delays or cancellations may be inevitable due to heavy traffic.

Pick-up/drop-off charge
At selected branches*, for a starting location besides the main rickshaw stand, a pick-up fee starting at 1,000JPY per rickshaw will be charged.
*Kyoto Arashiyama, Kyoto Higashiyama, Otaru, Yufuin, Kamakura and Tokyo Asakusa
Weight limit?
Basically there are no limitations. However, when deemed necessary for safety reasons, we may ask you to take rickshaws individually.
Wheelchair users?
Many wheelchair users have enjoyed our rickshaw tour.
Our staff will help you up to and down from the rickshaw. Light folding wheel chairs can be carried with the rickshaw, or sent separately to the final destination.
Luggage and baby strollers?
They can be strapped on the back of the rickshaw, but it depends on the size and shape.
Some offices may accompany your belongings temporarily. Please ask our staff.
Follow the rickshaw side by side?
Running or walking with the rickshaw is prohibited by traffic rules and for safety reasons. Following by bicycle is not allowed either. If you would like to set a time and place to meet someone, please consult our staff.
Credit cards ?
Payment by credit card and digital wallet are supported at selected branches.

Participating branches:
Kyoto Arashiyama, Kyoto Higashiyama, Tokyo Asakusa, Kamakura, Yufuin

Payment Methods:
Credit card: VISA, Mastercard, JCB, American Express, Diners Club
Digital wallet: Apple Pay, Google Pay, PayPal, LINE Pay, Wechat Pay, AliPay, Ginren

* Payment methods other than VISA, Mastercard and Ginren require the use of the customer's own cellphone with internet access.
Please contact our staff for more details.

(updated: June 13, 2019)
Cancellation Policy & Terms and Conditions
All bookings are confirmed at the time of booking.

Ebisuya Rickshaw will charge a cancellation fee of 100% if the booking is cancelled 24 hours or less prior to the event.

Ebisuya Rickshaw will charge a cancellation fee of 2.9% if the booking is cancelled 24 hours or more prior to the event.

In case of force majeure (event which is beyond the parties control, such as an earthquake, typhoon, torrential rain, extreme winds, flooding, riot, act of terrorism, or war), Ebisuya Rickshaw reserves the right to cancel the tour at our own discretion.

In such cases the customer will be contacted and notified by email or over the phone number provided.

Ebisuya Rickshaw will offer the option of a refund or rescheduling to a different date, time slot or even branch/city (based on availability).

*these standard terms apply regardless of the current COVID-19 pandemic.